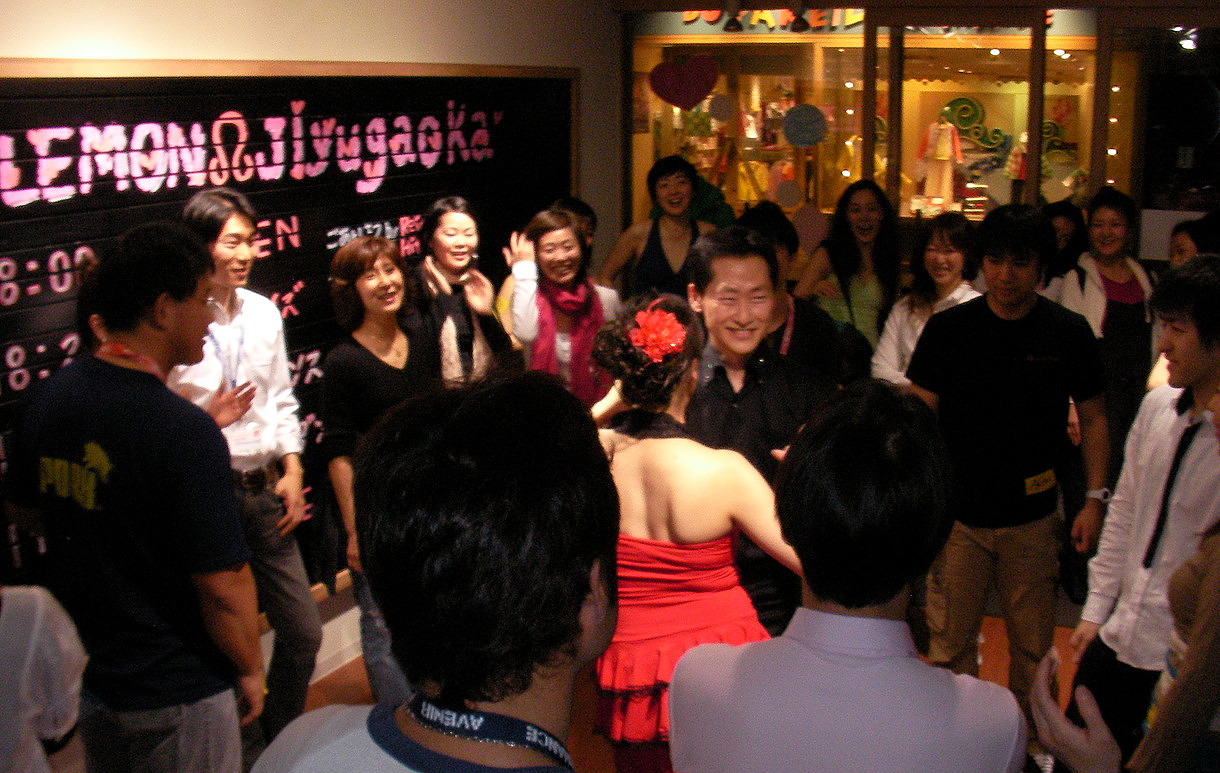 Aftanoonsalsa (AF Salsa) offers a more familiar and feel free to dance salsa and salsa lessons, Salsa Clubs representing the Shibuya, Shimokitazawa, Shinjuku, Roppongi central Tokyo and overseas freely, and wonderful (men cool well) on hand can help you will dance, from the 1/2004.

Home
Latest announcements
---
2017In August 19. :
公開日時/東京・下北沢サルサスタジオレッスン&フリーダンス
< Lesson schedule >
8October 20, (Sunday) 14:00-17: 00 @ sutyjio not necessarily have Emu
8October 27, (Sunday) 14:00-17: 00 @ sutajio shimokita Emu
9April 3, (Sunday) 14:00-17: 00 @ sutajio shimokita Emu
99, (Saturday) 14:00-17:00(Shimokitazawa station)
9On May 17, (Sunday) 14:00-17: 00 @ sutajio shimokita Emu
9March 24, (Sunday) 14:00-17: 00 @ sutajio shimokita Emu
---
2017In August 19. :
ひろのサルサ上達のコツ1(東京・下北沢サルサスタジオレッスン&フリーダンス)
I was a beginner Salsa Gung received a lesson a lot.
Each lesson has the memories, impressions so remains teacher while at first received lessons in short. Moments when men tell women leads to side-step when you move from the basic step to side-step the teacher paired up with, I've read, the teacher I see nice ~! You are! It will be pretty good! "The compliment, presumably would.
So I can finish the Salsa's first lesson remains in a pretty good mood, thanks to its word by teacher, teacher's lessons and salsa became like entirely. (Kinda simple! ) Each lesson followed by a dinner with students and mingled, went advanced Salsa while making Salsa friends. (And probably do not remember whether storage was strictly no may. Anyway there is only fun memories. ) That he gave compliments well.
Well, improve your salsa is which type of the following?
(1) praised the extending type?
(2) type is strictly a stretch?
(3) above mixed American and much type?
I think I is a type (1), (2) types of people are surprisingly. In addition, unaware of either type I or even grow, and carrot and stick type (3) successfully use found that type of person. Not knowing in the process either way, improve the fellow teacher and feedback and what type? is very important.
Feedback we try use well?.
After dancing the salsa friends and teachers, I got feedback that??
For example, after dancing to was how I lead or follow? Or ask.
May be able to get good feedback notice is usually on your own.
And I think it involved or what type of the above State of mind at the time of their. (1) number and thought, but to tell the truth (2) than for their own growth and willingly want to become available may be. In addition, you get feedback from who is the point. Opposite the feedback by may.
During joined Afzal lessons if you get feedback, the feedback tell Hiromi. And to assess the feedback and happy to help you further. I'm glad the ASKER type which might be himself. Will allow on did you know improve myself in any type of advantage of feedback and further accelerate progress speed of salsa!
How did improve my salsa tips blog?
I'm glad you appreciate the feedback.
以上、「サルサ上達のためのコツ1」にお付き合い頂き、ありがとうございました。
Afsar Hiromi
---
2017On July 23. :
Last week's lesson and video
Salsa Dance dancing in a short period of time until the aftanoonsalsa Learn Salsa Salsa beginners are comfortable, fun and to systematically offer lessons to support. Salsa basic step in the lesson learned is HP and Youtube videos have been up Salsa basic step videos A-E visit repeatedly, that review is recommended.
* Especially afsar lesson (points in lessons learned in video detail. ) And the salsa basic step videos A-combination of E-based learning is effective.
* Learn all basic steps to further step up the dance can dance like Afzal lesson, use Salsa free dance steps series videos are delivered in FB and Youtube videos. This is recommended to be learned and Afzal intermediate lesson at the same time.
<7月22日レッスン動画>
CUMBIA Salsa steps whilst circle to draw the male lead, will be changed to clockwise position. Man is lead to involve women back and keep the frame firmly with tricks.
<7月9日レッスン動画>
Beginner Salsa lesson 20170709
Intermediate Salsa lessons 20170709 (can be used in intermediate dance step 4)
Step is recent in the lesson.
Afternoon Salsa intermediate lesson _ 20170423
---
< Aftanoonsalsa basis per week demo videos >
At the bottom of the video screen Center Salsa step name is displayed according to the video. View videos tap once with your finger and then tap the subtitles display CC.
Please remember the step name, repeatedly watching videos while watching the salsa step name. If so, replace the step in order to even out breakfast, will dance the dance future.
* May not be viewed on some terminals.

Participation fee / ticket pass
Aftanoonsalsa base participation fee for
Aftanoonsalsa's one lesson of participation proceeds as follows.
Schedule 14:00-17:00To all students, and 2500 Yen!

Lesson 10 times pay can take 11 times.
Purchase expires one year from the date
If you * purchased by husband or sibling pairs ¥ 20000 / per person

Studio information
Shimokita Emu Studio
Toyo Kogyo Bldg. 3f, Tokyo, Setagaya-Ku, Kitazawa 2-25-8
From Odakyu Odawara line Shimo-Kitazawa station walking 1 minute
This page has been automatically translated. Please note that it may differ from the original.
This page has been automatically translated. Please note that it may differ from the original.